Malaysia & Borneo
Malaysia located in Southeast Asia and is comprised of two regions; Peninsula Malaysia and the island of Borneo, which is home to the states of Sabah and Sarawak. One of the world's great cultural melting pots, populated by a blend of Malays, Chinese, Indians and indigenous groups, Malaysia boasts rich in cultural and heritage, with reefs, rainforest, mountains, annual festivals to traditional architecture and rural crafts.

Kuala Lumpur is the capital city and is the social and economic centre of the country but also packed with historic monuments, one of the world's tallest building, the Petronas Twin Towers, mega-sized shopping malls, bustling street markets and trendy nightspots.

Across the sea from the Peninsula and away from the cities lie the east Malaysian states of Sabah and Sarawak, Borneo's gateway to another world. Gunung Mulu National Park was listed as a UNESCO World Heritage site in 2001 and many come here to climb and view its extraordinary razor-sharp limestone Pinnacles, through spectacular caves burrowed into the park's mountains.

Conquer the granite peak of Mount Kinabalu, or explore the Mari-Mari Cultural Villages and see the varied lifestyle of the tribal people of Sabah come to life such as blowpipe-making and tattooing. Discover a few of the exotic residents of the jungle and plentiful islands such as orang-utans, proboscis monkeys, hornbills and turtles.

Top Malaysia & Borneo Tours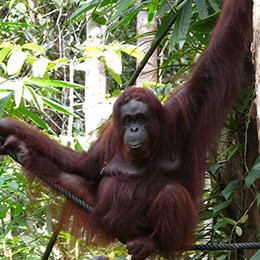 Kuala Lumpur City Stay

3 Days from

290pp
Kuala Lumpur is the capital city of Malaysia and its financial and economic centre. It has an interesting mixture of ancient traditions and culture.
Kota Kinabalu City Stay

4 Days from

900pp
Discover Sabah's fascinating state capital, Kota Kinabalu. Explore a thriving, multi-cultural city, tribal villages and a stunning natural countryside.
View All Malaysia & Borneo Tours