Li River Cruise
There is no journey that can really show the true beauty of Guangxi Province better han a voyage down the Li River which so conveniently connects the twin beauty spots of Guilin and Yangshuo. Lined with karst scenery that juts and jags dramatically round every bend, the Li River is truly the core of Guilin's natural allure.
The Li River has aroused the romantic and artistic side of many visitors dating back to the area's beginnings in the Qin Dynasty. Long a model for a library of Chinese paintings and poetry, the Li River has become the epitome of Chinese landscape; a striking blend of green karst, blue waters and the yellow hue of the low-sunken sun.
The most famous residents on the Li River are the cormorant fishermen. With their conical hats, bamboo rafts, and winged business partners in a pre-dive stance, these fishermen transport you back to China's ancient past and a way of life long-missed in the west.

A cruise down the river will allow you to witness this natural haven in all of its glory. There is much famous karst scenery along the way, including the pachyderm-shaped Elephant Trunk Mountain and Seven Star Park, the largest natural fresco in Guilin.
Whimsical hill landscape, tranquil lagoon-blue waters and lush vegetation, the Li River is a blend of Guilin's most visually-stunning and iconic natural scenery. Indulge your artistic side and be inspired with a journey down this dream like waterway.
Top tours visiting the Li River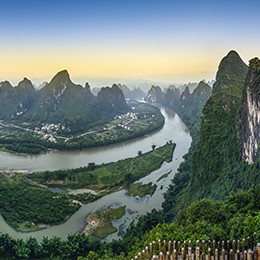 Glories of China

15 Days from

On request
Combining the contrasting urban splendour of Shanghai, Beijing and Xian with the majestic sights of the Great Wall, Terracotta Warriors and extraordinary landscapes of the Li River, this tour showcases China's most glorious highlights.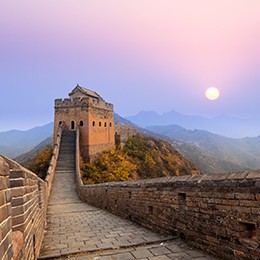 Wonders of China

17 Days from

On request
China is a land of many wonders – ancient and modern, natural and man-made. This hugely popular tour is a comprehensive journey through China's most iconic sights from the magnificent Great Wall to the mighty Yangtze River.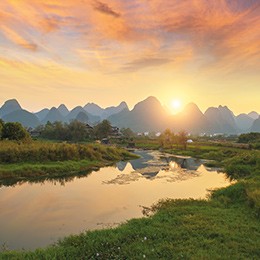 China Delights

19 Days from

On request
From international Shanghai and the pandas of Chengdu to the imperial highlights of Beijing and all the dramatic landscapes in between, relish the historical, cultural and natural delights of China on this comprehensive trip.
View all Li River Cruise tours
Other places to see nearby