Halong Bay
Known as Vietnam's jewel in the crown, and the number –one tourist attraction in the north-east, Halong Bay has around two thousand islets rising from its emerald waters. Halong actually means 'descending dragon' and myth has it that an enormous beast is said to have entered into the sea, cutting the bay from the rocks as it trounced its way into the water.
Designated a world heritage site in 1994, this stunning landscape is home to over two thousand islands and the best way to make the most of its stunning beauty is to board a traditional junk boat or a luxury cruise ship to explore the inspiring scenery. Tour guides will point out the amazing stalagmites and stalactites which, with imagination, become animals, heroes, demons, and futuristic creatures. The cave spectacles on offer include, Hang Luon a flooded cave which leads to the hollow core in a doughnut shaped island: Hang Thien Cung is a hanging cave, with dripping stalactites, stumpy stalagmites, and solid rock pillars: Sung Sot Cave (Surprise Cave), is an enormous cave and one of the most visited in the Bay. Whilst on-board try some of the local delicacies and fresh seafood and if you take an overnight cruise, you'll also be able to try your hand at kayaking, practise tai chi, or watch local cooking demonstrations.
Top tours visiting Halong Bay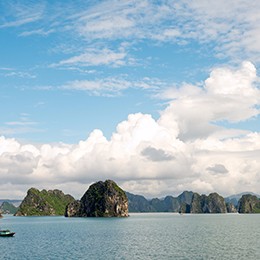 Vietnam Impressions

11 Days from

On request
The perfect snapshot of a captivating country, delve into Vietnam's energetic cities, fascinating heritage and compelling landscapes on this whistle-stop tour. See the sights of stately Hanoi and exuberant Saigon whilst savouring the breath-taking scenery of Halong Bay and the Mekong Delta.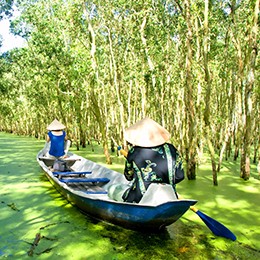 Vietnam at a Glance

13 Days from

On request
Relish Vietnam's distinct and energetic character as you journey from Saigon in the south up to Hanoi in the north. Explore the country's turbulent past, meet the friendly, resilient locals and get lost in spectacular panoramas on this tour of discovery.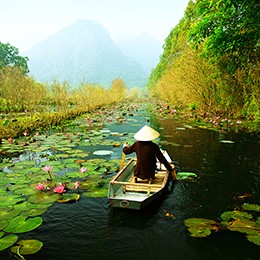 Vietnam Escape

18 Days from

On request
Escape the ordinary and allow the captivating charms of Vietnam to beguile you. Traverse the country from toe to top enjoying the vibrant cities, verdant pastoral panoramas, gentle beach-fringed coastline, and historical treasures en route.
View all Halong Bay tours
Places to see in Halong Bay