Saigon
Saigon is the epitome of modern day Vietnam. It is the largest and most vibrant of Vietnam's cities and is a heady mix of local culture and colonial influences.
During the 1960s and early 1970s, Saigon was the Pearl of the Orient, which flourished under the American occupation. In more recent times it was the seat of the South Vietnam government until the events that led to the country's reunification. Today, the old mixes seamlessly with the new and you can wander through timeless alleys to incense-infused temples before catching up with the present in designer malls beneath sleek skyscrapers.
Saigon (also known as Ho Ci Minh City) is a city of contrasts: from the finest of hotels to budget guesthouses, from the classiest restaurants to the flavours of the street stalls, and from classy boutiques to the bartering in the street markets, it has it all.
The modern history of Saigon is inextricably linked with the American War in Vietnam. Between 1960 and 1970, 200 km of tunnels were built which were used by up to 300,000 soldiers living underground. The width of the tunnel entry at ground level was 22 cm by 30 cm. The tunnels are too narrow for most Westerners, but a short section of the 250 km of tunnels has been especially widened to allow tourists to share the experience. You can find out more at the Cu Chi Tunnels and you can discover the Vietnamese side of the story at the poignant War Remnants Museum and the Reunification Palace.
If you head out of the city you'll find the fertile Mekong Delta, you can take a boat on the waterways. This is also a great place to sample the local produce. If you travel to Tay Ninh, you'll be able to learn about the Cao Dai Religion and visit the colourful Cao Dai Great Temple.
Top tours visiting Saigon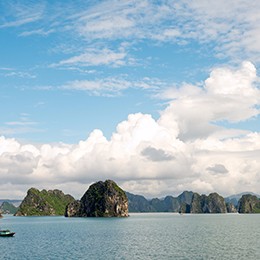 Vietnam Impressions

11 Days from

On request
The perfect snapshot of a captivating country, delve into Vietnam's energetic cities, fascinating heritage and compelling landscapes on this whistle-stop tour. See the sights of stately Hanoi and exuberant Saigon whilst savouring the breath-taking scenery of Halong Bay and the Mekong Delta.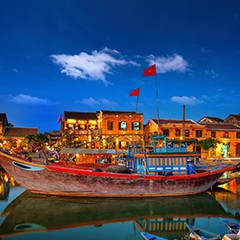 Vietnam Panorama

19 Days from

On request
Travel overland through the verdant south of Vietnam – from the riverside life of the Mekong to lush and fresh Dalat, up the beautiful coastline to ancient Hue. Finish off by exploring colonial Hanoi and cruising on tranquil Halong Bay.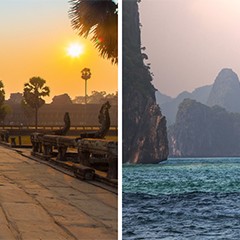 Angkor to the Bay

18 Days from

On request
One of our most popular tours which takes you on a voyage of discovery – from the breathtaking majesty of the temples of Angkor, through to the spectacular natural grandeur of Halong Bay – experiencing all manner of delights en route.
View all Saigon tours
Places to see in Saigon