Angkor Wat
The heart of the immense Angkor complex, seat of the Khmer Empire from the 9
th
to 15
th
centuries, Angkor Wat has become the symbol of Cambodia and an absolute must-visit. The best preserved of all of Angkor's temples as it was never abandoned, the wat's symmetrical beauty is breathtaking from a distance. It is up close however, you will discover the uniqueness, detail and intricacies that make Angkor Wat one of the world's greatest structures. Although often busy, it is still easy to escape and find an old passageway lined with exquisitely crafted apsaras and bas reliefs to explore all to yourself.
Top tours visting Angkor Wat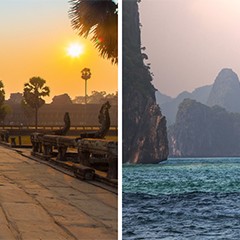 Angkor to the Bay

18 Days from

On request
One of our most popular tours which takes you on a voyage of discovery – from the breathtaking majesty of the temples of Angkor, through to the spectacular natural grandeur of Halong Bay – experiencing all manner of delights en route.
View all Angkor Wat tours
Other places to see nearby
At a glance
Time difference: Cambodia is 5 hours behind New Zealand (6 hours during daylight saving)
Flight Time: Approx 12 hours
Visa Required: Yes
Currency: Cambodian Riel (KHR)
Tel Code: +855
Official Language: Khmer
Main Religion: Buddhism
Airlines: Singapore Airlines
© 2018 Wendy Wu Tours, All Rights Reserved.
Wendy Wu Tours offers the best selection of tours to Asia. Wendy Wu Classic, Immerse Yourself & Deluxe Group Tours, Private and Tailor-Made Tours to Asia from New Zealand, Australia, the US and UK.
Offices in Auckland, Sydney, London, New York, Shanghai and Xian.