Taj Mahal
The Taj Mahal is, simply, as breathtaking as the stories say. India's most iconic building, a monument to love, and mausoleum to a favourite wife, the Taj Mahal is built entirely from white marble, its exquisite symmetry mirrored only by the reflecting pool that runs down the centre of its gardens. It was built by Shah Jahan for his third wife Mumtaz Mahal who used a purported 20,000 stone carvers, masons and artists. Striking as it is from a distance the building's beauty is also in its detail – semiprecious stones, intricate carvings and calligraphic verses from the Koran grace the main mausoleum. Shah Jahan, imprisoned by his son just down the river in Agra Fort, lived out his days with a view of the Taj Mahal before he himself was interred inside with his wife.
Top tours visting the Taj Mahal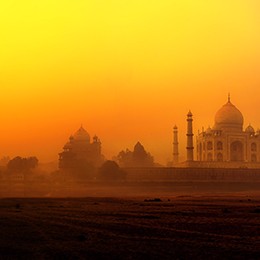 Golden Triangle

10 Days from

4,180pp
Our Golden Triangle itinerary has been intricately designed for those who wish to see iconic sites and magnificent treasures. You'll travel with the assurance that all your arrangements are taken care of, with international flights, accommodation and all the touring listed below. You will be accompanied by our industry-leading National Escorts whose unparalleled knowledge and talent will turn your tour into an unforgettable experience.
View all Taj Mahal tours
Other places to see nearby
At a glance
Time difference: India is 6.5 hours behind New Zealand (7.5 hours during daylight saving)
Flight Time: Approx 14.5 hours
Visa Required: Yes
Currency: Indian Rupee (INR)
Tel Code: +91+562
Official Language: Hindi
Main Religion: Hinduism
Airlines: Singapore Airlines
© 2018 Wendy Wu Tours, All Rights Reserved.
Wendy Wu Tours offers the best selection of tours to Asia. Wendy Wu Classic, Immerse Yourself & Deluxe Group Tours, Private and Tailor-Made Tours to Asia from New Zealand, Australia, the US and UK.
Offices in Auckland, Sydney, London, New York, Shanghai and Xian.