Maldives
The Maldives is home to some of the best beaches in the world, and where you will find whiter-than-white sand and turquoise-blue water. Some of the world's most amazing diving and snorkelling is found in the Maldives and the luxurious resorts mean the Maldives are at the top of many travellers' wishlists.

The Maldives is the perfect holiday destination to do as little or as much as you please. Relax on the unspoiled beaches or with pampering spa treatments or enjoy the many outdoor activities the Maldives have to offer. Enjoy all that makes the Maldives an extraordinary holiday experience; luxury accommodation, indulgent spa treatments, fantastic facilities for families and children, world-class diving and surfing, outstanding dining options and unique resort experiences for special occasions.
Top Maldives Tours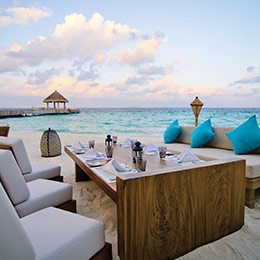 Jumeirah Vittaveli

6 Days from

On request
Relaxation begins as soon as you arrive at Jumeirah Vittaveli located on the South Malé Atoll. Lie on white sandy beaches, re-energise in the signature spa, feast on decadent dishes or simply relax in the intimate space of your hideaway. The limitless hospitality and five star facilities combine to capture the very essence of indulgence.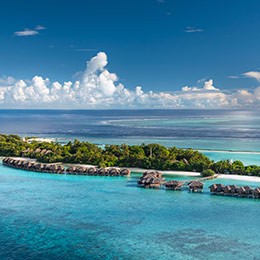 Sheraton Maldives Full Moon Resort

6 Days from

On request
Located on North Malé Atoll, this resort is a private island oasis of golden sunshine, fine dining and entertainment. Accommodation ranges from beachfront rooms and standalone cottages, villas and suites featuring thatched roofs located on the beach, to overwater bungalows and suites with privacy and direct sea access.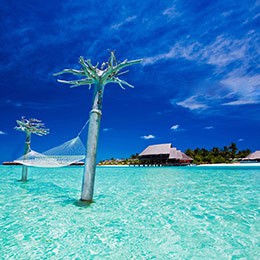 Anantara Dhigu Resort & Spa

6 Days from

On request
The Anantara Dhigu Resort & Spa Maldives, located on South Malé Atoll, is a family friendly island paradise which offers an array activities to suit the whole family. Unwind at the Anantara Spa, with a range of renowned signature treatments. The spacious villas and Over Water Suites are some of the most luxurious in the Maldives, with direct access to the beach and only steps away from the lagoon.
View All Maldives Tours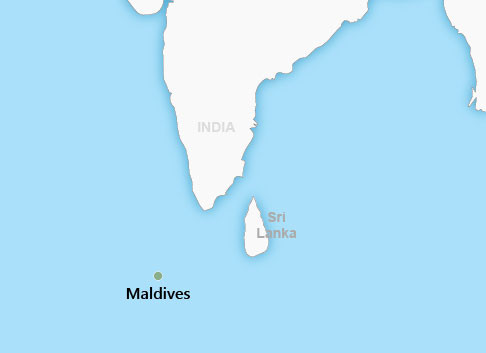 At a glance
Time difference: The Maldives is 7 hours behind New Zealand (8 hours during daylight saving)
Flight Time: Approx 13 hours 30 mins
Visa Required: No
Currency: Maldivian Rufiyaa (MVR)
Tel Code: +960
Population: 395,650
Official Language: Dhivehi
Main Religion: Islam
© 2018 Wendy Wu Tours, All Rights Reserved.
Wendy Wu Tours offers the best selection of tours to Asia. Wendy Wu Classic, Immerse Yourself & Deluxe Group Tours, Private and Tailor-Made Tours to Asia from New Zealand, Australia, the US and UK.
Offices in Auckland, Sydney, London, New York, Shanghai and Xian.