Hiroshima
When it comes to Hiroshima, to most people it means just one thing, it was the target of the world's first atomic bomb attack on 6
th
August 1945. Hiroshima's Peace Memorial Park is a constant reminder of that day, and it attracts visitors from all over the world.
The city was virtually obliterated in 1945 but since then the city has been rebuilt, and today Hiroshima has become a modern city featuring both vitality and tranquillity. Ruined and reborn in the war, the city has an underlying theme of peace, reflected with its wide boulevards, bustling downtown area and laid-back friendliness, and is home to a thriving and internationally minded community of over 1 million inhabitants.
The best way to explore the city is by tram or by bicycle which will enable you to explore all the local sights and try local delicacies. No visit would be complete without spending some time at the Peace Memorial Park and Museum, which is visited daily by people from around the world. Nearly everything was destroyed in 1945, except the A-Bomb Dome, which today is a UNESCO World Heritage Site, and is the remains of the former Prefectural Industrial Promotion Hall.
Over recent years, many of the historic sites have been reconstructed including Tenshukaku, Hiroshima Castle and Shukkeien Garden, but today the modern city of Hiroshima is creating a modern future of its own, embracing modernity whilst preserving it unique present day history.
Top tours visiting Hiroshima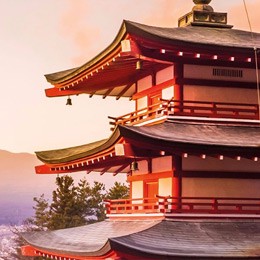 Essential Japan

12 Days from

9,490pp
Our Jewels of Japan itinerary has been intricately designed for those who wish to see iconic sites and magnificent treasures. You'll travel with the assurance that all your arrangements are taken care of, with international flights, accommodation and all the touring listed below. You will be accompanied by our industry-leading National Escorts whose unparalleled knowledge and talent will turn your tour into an unforgettable experience.
View all Hiroshima tours
Places to see in Hiroshima