Mt Fuji
Mount Fuji is one of the UNESCO World Heritage Sites and it is Japan's highest mountain with a height of 3,776 meters. This nearly perfectly shaped volcano has been worshiped as a sacred mountain, and many artists in the early 19th century produced images which had a profound influence on the development of Western art.
Mount Fuji is an active volcano, which most recently erupted in 1708. It can be seen from Tokyo and Yokohama on a clear day and during the summer months the mountain will be still be capped with snow. Clouds and poor visibility often plague this mountain and block the view of Mount Fuji, and you have to consider yourself lucky if you get a good clear view. Visibility tends to be better during the colder seasons of the year than in summer, and in the early morning and late evening hours is better than during the middle of the day.
The best place to enjoy Mount Fuji is from the Fuji Five Lake Region at the northern foot of the mountain. If you have time, don't forget to bathe in the world famous hot springs! You'll feel rejuvenated and reinvigorated to enjoy the rest of your tour of Japan.
Top tours vising Mt Fuji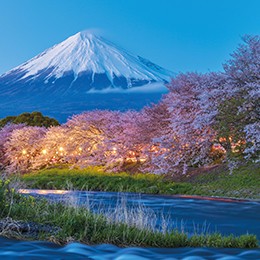 Discover Japan

14 Days from

9,980pp
Explore the remarkable culture and customs of Japan, a land steeped in mythical traditions and modern wonders. Explore neon-lit Tokyo and stunning Mt Fuji; the beauty of Takayama and spirituality of Kyoto and Nara. Also travel across the Japanese Alps to the cultural centres of Takayama, Shirakawago and Kanazawa.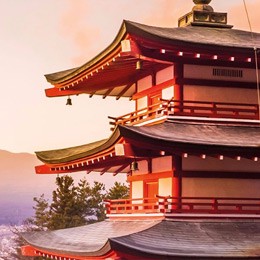 Essential Japan

12 Days from

9,490pp
Our Jewels of Japan itinerary has been intricately designed for those who wish to see iconic sites and magnificent treasures. You'll travel with the assurance that all your arrangements are taken care of, with international flights, accommodation and all the touring listed below. You will be accompanied by our industry-leading National Escorts whose unparalleled knowledge and talent will turn your tour into an unforgettable experience.
View all Mt Fuji tours
At a glance
Time difference: Japan is 3 hours behind New Zealand (4 hours during daylight saving)
Flight Time: Approx 12 hours
Visa Required: No
Currency: Japanese Yen (JPY)
Tel Code: +81+66
Official Language: Japanese
Main Religion: Shinto
Airlines: Cathay Pacific
© 2018 Wendy Wu Tours, All Rights Reserved.
Wendy Wu Tours offers the best selection of tours to Asia. Wendy Wu Classic, Immerse Yourself & Deluxe Group Tours, Private and Tailor-Made Tours to Asia from New Zealand, Australia, the US and UK.
Offices in Auckland, Sydney, London, New York, Shanghai and Xian.